Toledo Windshield Repair and Windshield Replacement
Your windshield serves more functions than just simply allowing you to see what's in front of you. It also adds to the structural integrity of your vehicle in the event of a collision. This is the reason that your windshield is bonded so tightly to its frame during factory installation.
The Importance of Good Windshield Repair and Proper Windshield Replacement
But what happens when your windshield becomes damaged? Not only can it impair your view out of your vehicle, but it can weaken your car's structural integrity. Road debris, vandals and other maladies can crack or pit your windshield. When that happens, it's a good idea to fix it with proper windshield repair or replacement if there's any risk of compromising the functionality of your windshield. Not only should this be done, but it should be done to maintain your car's structure and avoid leaks.
Things to Know About Proper Windshield Replacement in Toledo
The structure that holds your windshield to the car (called the pinch weld) should be inspected for rust and other integrity issues that could cause leaks.
Whatever the cause was for the damage to your windshield could very well be covered under your insurance (minus deductibles, of course).
Best Auto Glass Mobile not only will give you a free estimate, but will help you in filing any insurance claims.
Best Auto Glass Mobile will come to you for your windshield replacement or windshield repair. There's no need to drive with a damaged windshield to a shop.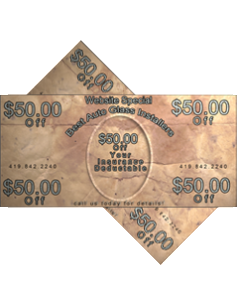 $50.00 Off Insurance Deductible