Auto Glass Installation for Maumee, Ohio by Best Auto Glass Installers
Auto glass installation for Maumee, OH and surrounding areas is not something to take lightly. When it comes time to install auto glass, you need to realize the importance of going to a shop where safety is key and the highest quality of glass and sealant are used. Best Auto Glass Installers wants to ensure your safety, and the safety of your passengers, which is why we are certified by the National Glass Association (NGA).
The NGA requires that technicians certified with them take an exam and be qualified for at least six months to three years, depending on the type of technician. The NGA has high standards for membership that are based on excellent customer service and safety for consumers. Best Auto Glass is proud to be a certified member of the NGA, because we believe that this shows you we are serious about safety standards, and are committed to providing you with safe and excellent auto glass.
Also, AGRSS is an organization that focuses on safety when it is time to install autoglass in your vehicle. AGRSS provides training and resources for consumers, auto glass installers, and insurance companies. Again, Best Auto Glass finds pride in saying that our technicians adhere to safety standards by AGRSS, which is at the forefront in auto glass replacement safety and installationg. All of our independently certified technicians follow safety guidelines and regulations set by the NGA and AGRSS.
Safe Auto Glass Installation is Our Promise
Auto glass installation safety is an extremely important issue to Best Auto Glass Installers. There can be no shortcuts when it comes to safely replacing a windshield that could save someone's life in an accident. In addition to protecting passengers in the event of an accident, you want to know that your windshield is replaced with a seal as good as the one your windshield got when installed at the factory to prevent any leakage. Best Auto Glass can promise you the best service because we are the best. Contact us for more information concerning auto glass installation for Perrysburg, OH and surrounding areas!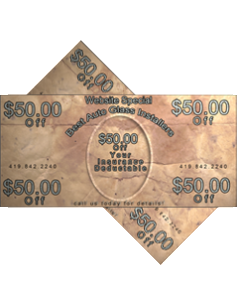 $50.00 Off Insurance Deductible